Complex and Critical Hydraulic, Automotive casting manufacturer with in house core manufacturing, and casting finishing facilities.
Global Cast Solutions Private Limited, an Indian Company, located in Coimbatore, Tamil Nadu, South India, has very well established with our team's experience and involvement. GCS is one of the best Company in developing and supplying critical and intricate castings for Hydraulic and Automotive Industries.
GCS has been quick to keep up the pace with the dynamics of a rapidly evolving market by absorbing and offering new technology. While doing so, we have ensured to maintain a good standard of to be synonymous with.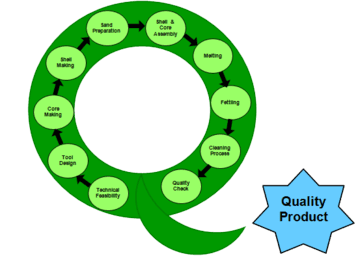 Global Cast Solutions has a good manufacturing base and associated with system oriented and quality conscious partners having ISO-9001 & ISO/TS-16949 certification. GCS manages all of its programs hands on, utilizing program management tools in line with the AIAG standards.
GCS's partners have over 25 years' experience in the cast metals industry specifically related to automotive and engineering industries. GCS has expertise in foundry engineering for highly intricate castings. It also has extensive experience in program management, foundry tooling design, CNC machining, metallurgy and quality control.
It takes adherence to the core values of integrity, commitment, excellence and, above all, professionalism to make a mark in an industry that is defined by precision. At GCS we diligently adhere to our tenets and have uniquely positioned ourselves as a quality organization in the foundry business in India.
The quest for continual improvement, ability to seize opportunities and the willingness to adapt towards change are our key strengths. These traits have seen us adapt, improve and evolve, and in the process of redefining the foundry sector. Our strong emphasis on quality and passion for technology has enabled us to offer world-class products that have contributed to advancement at both micro and macro levels.
With India emerging as a global automotive manufacturing hub Global Cast Solutions is proud to partner the nation in its progress.
To match and supersede world class standards, in both service and product delivery, by remaining committed to customer satisfaction; to expand horizons and push boundaries, both in our existing and future endeavors, so as to provide continuous growth, profit and prosperity to all our internal and external stakeholders.
Sustainable Growth and Return on Investment by continuous improvement of Human Resource, Environment, Technology and Product. We intend to achieve this through:
Our People
By inculcating a culture of constant product innovation & process improvements
By nurturing human capital through training, education and exposure
By providing opportunities for growth & development
By fostering teamwork and mentorship
By developing leadership capability
Above all work with Passion, Pride, Transparency and Honesty
Our Society
Being a responsible corporate citizen: Giving back to the environment what we take
Adopting cleaner and greener technologies
Providing a safe and healthy work environment
Caring for the communities in which we work
Demonstrating high ethical standards
Our Customers
By helping them stay on the curve by delivering innovative products & services
By helping them grasp every opportunity by delivering on-time every time
By transparency in our dealings
Our Suppliers
Quality starts from incoming material: we believe in developing our suppliers to our level of competence and quality assurance
Ensuring fairness and equitable transaction to all our suppliers in accordance with internally established procedures
Ensuring our procurement activities comply with all relevant laws, social norms, standards and treaties worldwide
Building up a relationship of trust with all our suppliers through reciprocal efforts
We shall strive to meet and exceed Customer expectations of Quality of products delivered, on-time delivery and at a competitive cost.
This policy shall be deployed through an effective Quality Management System aimed at
Continual improvement in product quality by process control & variability reduction.
Up gradation of manufacturing technology and facilities.
Cost reduction through elimination of waste in all Business processes.
Development of Human Resources through continuous training and providing opportunity for development of skill-set.
Encompassing all statutory regulations and Health, Safety & Environment (HSE) requirements our company is ISO 9001:2014 certified for continual improvement in our Quality system in emphasizing defect prevention and the reduction of variation and waste in the entire supply chain.
GCS can supply all kinds of Cast Iron like Grey Cast iron (GCI), Ductile Iron (SGI), Compacted Graphite Iron (CGI) and Austempered Ductile Iron (ADI). We can also manufacture Steel castings and Aluminum castings.
Material Range
Iron Castings (GCI, SGI, CGI, ADI, SiMo)
Steel Castings
Non Ferrous Castings (Aluminum & Brass)
Machined Components
Process & Weight Range
Green Sand Process - From 1.00kgs to 40Kgs
Shell Mold Process - From 0.05kgs to 20Kgs
Furan Process - From 50kgs to 1500Kgs
Hand Mold Process - From 100kgs to 3000Kgs
GCS has a team of well qualified technocrats with more than 3 decades of experience in foundry and machining shop.
Our technocrats pose a strong technical knowledge with expertise in Product Development, Casting and Machining techniques, Sourcing and Supply chain Management. Our team has good capability to design and troubleshoot casting and machining processes.